Are you a busy mom or entrepreneur? Take a deep breath and create a better life for you and your family! Elaine Tan Comeau, founder of Easy Daysies (www.easydaysies.com a favorite winning pitch on Dragons' Den, Canada's Shark Tank), mom of 3, wife, foodie, stroke survivor, former school teacher, author & speaker, and Mompreneur of the Year in Canada, talks to you about Creating Better family, health, mental health, business and self, all straight from the kitchen table - where it started for her and where it can start for you! This season's guests include Greg McKeown (author of runaway bestseller Essentialism), Erica Ehm (pioneering MuchMusic VJ), Tonia Jahshan (W100 #1 Canadian female entrepreneur), Ann Douglas (CBC Radio parenting expert/columnist), Dr Vanessa Lapointe (registered psychologist and parenting expert), Tara Teng (Miss World 2012), Brian Dixon (author of Start With Your People) and more! I am so happy to have you join me!
Episodes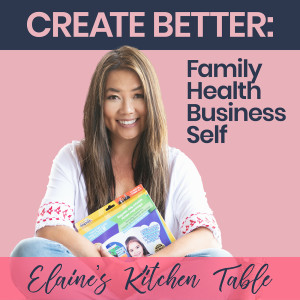 Monday Jul 18, 2022
Monday Jul 18, 2022
Inventors Lori (founder of Safe Grate) and Christine (founder of Sola Skin Care), both went a very smart route when creating their products. They discovered a need in their life, did the research, and fulfilled the need themselves!
Listen in as these ladies have a candid conversation about:
Patents - Yay? Nay? What type?
What type of research to do - and when to stop researching and get moving
Using your own needs as impetus to create products others like you will want
Their own founder stories
Going for it, making mistakes, making changes, and setting boundaries
What you start with is not what you end with
And much more!
Show notes: www.elaineskitchentable.com/098
Connect with Lori:
Connect with Christine:
Connect with Elaine:
Get a free chapter from Elaine's book, Sell Your Passion: https://elaineskitchentable.com/book/
Episode Sponsor:
Easy Daysies - help your family have easier days!