Are you a busy mom or entrepreneur? Take a deep breath and create a better life for you and your family! Elaine Tan Comeau, founder of Easy Daysies (www.easydaysies.com a favorite winning pitch on Dragons' Den, Canada's Shark Tank), mom of 3, wife, foodie, stroke survivor, former school teacher, author & speaker, and Mompreneur of the Year in Canada, talks to you about Creating Better family, health, mental health, business and self, all straight from the kitchen table - where it started for her and where it can start for you! This season's guests include Greg McKeown (author of runaway bestseller Essentialism), Erica Ehm (pioneering MuchMusic VJ), Tonia Jahshan (W100 #1 Canadian female entrepreneur), Ann Douglas (CBC Radio parenting expert/columnist), Dr Vanessa Lapointe (registered psychologist and parenting expert), Tara Teng (Miss World 2012), Brian Dixon (author of Start With Your People) and more! I am so happy to have you join me!
Episodes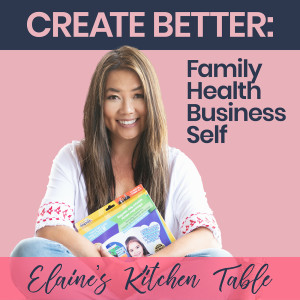 Wednesday Jun 22, 2022
Wednesday Jun 22, 2022
Imagine having 4 children, all with ADHD, one with depression, one on the autism spectrum, all while you are living with bipolar disorder. Then imagine writing 25 books, including "Happy Parents, Happy Kids" and "Parenting Through the Storm". You have just imagined Ann Douglas, an amazing woman, and besides all of the above, a parenting expert and columnist on CBC Radio.
In this episode, Ann shares with us the key techniques a 2020's parent should use to not only cope with the times but thrive as a family.
Where to find Ann: www.anndouglas.net
Ann's book Parenting Through the Storm on Amazon...
Ann's book Happy Parents, Happy Kids on Amazon...
Show notes: www.elaineskitchentable.com/090
Connect with Elaine:
Website: https://elaineskitchentable.com
Instagram: https://www.instagram.com/elainetancomeau
LinkedIn: https://www.linkedin.com/in/elainetancomeau/
Facebook: https://www.facebook.com/ElainesKitchenTable
Twitter: https://twitter.com/chatwithelaine
Elaine's company Easy Daysies:
Website: https://www.easydaysies.com/
Instagram: https://www.instagram.com/easydaysies/
Facebook: https://www.facebook.com/easydaysies
Twitter: https://twitter.com/easydaysies
Pinterest: https://www.pinterest.ca/EasyDaysies/
Get a free chapter from Elaine's book, Sell Your Passion: https://elaineskitchentable.com/book/
Episode Sponsor: